This disk was recorded mostly live at MeGaPaGaTeXaPaLooZa Austin on Pagan Pride Day. It's half Loke E. Lite (Trickster solo) and half SONA. If you like Loke E. Coyote, you'll like SONA too. They play goofy Pagan bluegrass, polka and folk. The band stayed at Trickster's place for a week or so and we had more fun than any group of musicians should be allowed! We cut this CD and had it ready for Houston Pagan Pride Day. It's been featured on

WGDS Goddess internet radio and many of the cuts can be heard on

Loke E. Coyote's mp3 download page and

SONA's mp3 download page .

Here's what's on MeGaPaGaTeXaPaLooZa Austin - Pagan Pride: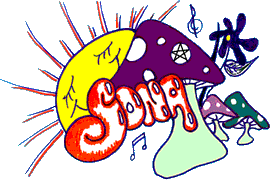 These songs are by Joe, Joe, Beltana and sometimes Trickster, otherwise known as SONA! Dig it!
Mary's Blue is a song about good people rotting in jail for smoking weed while murderers and rapists go free. Features Joe III on vocals and mandolin.
Blessed Be proves that you don't have to be Southern Baptists to play gospel music. Tasty harmonies and good mojo!
Pagan Polka - Damn it! Joe beat Trickster to writing this song! The cows and chickens will think you're crazy for listening to this one!
Land of the Sidhe showcases Beltana's writing skills and vocal abilities. A magickal mystickal ode to otherworldliness!
a Paean to Mead was recorded at Wiccabilly Studios and is kind of a commercial for the finest drinkin' stuff on the face of the planet! Trickster plays washboards and harmonica and everyone makes bee noises!
Snails Ho is another Beltana creation all about life at a Pagan gathering. You've been there, you know it's all true and fun, but what exactly did the faeries do with her nipple rings?
Burning Time in Texas is Joe's take on rednecks who just can't seem to understand we don't worship Satan. Altho the idea of burning witches is somewhat less than appealing, this song lets us laugh about it! BTW, did you know Jesus was at the Alamo?

The rest of the disk is Trickster's solo set from Pagan Pride Day. Lots of great party tunes, some politics, and teases from his forthcoming rock opera Druid Four Winds.

Castin' Circle proves that every Pagan band must have a song to call the elements. Jesus left Chicago in his V8 Ford...

Labor Day of Love tells the true tale of a bunch of Pagans facing down the bad old rabid preacher. An anthem for tolerence!

Pagan Night Out is a dozen of our favorite parties of the year, and now with PNO Classic every 23rd, it's TWO dozen!! It's fun! You should start one if your town doesn't already do it.

Move Over Jehova is a Jehova Witless's worst nightmare - knocking on Trickster's door. What fun he has with them!

Pan And Aphrodite is an accoustic version of a song from the Pagan rock opera

Druid Four Winds, and is all about the ages old mating dance. Been there. Done that. Can't wait til next time!

Beltane is an another accoustic version of a song from the Pagan rock opera

Druid Four Winds - ah Beltane! Perhaps our favorite holiday! Magick at the maypole!

Hell to Pay proves that it's not all fun and games. There are dark forces at work in this country and we'd best do something about it before it's too late. Like support

the Libertarian Party
Don't Bogart that Mead my friend! Pass it over to me!

Ganga George is of course about that historical pothead George Washington. Man oh man, did Trickster get in trouble for playing this one!
and THEN some! There's also three short mystery cuts, but we can't tell you what they are cause that would spoin the surprise!
MeGaPaGaTeXaPaLooZa Austin - Pagan Pride is a great disk and a must-have for any Pagans who like to party. It's available via mail order for only $15. NOW ON SALE FOR $10! You can check some of it out for free at

Loke E. Coyote's mp3 download page and

SONA's mp3 download page , but once you listen you're sure to want a copy. So go check it out right now! We'll wait....